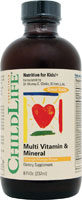 Compare with other Multi Vitamins
Compare
| | | |
| --- | --- | --- |
| Childlife Multi Vitamin and Mineral Natural Orange Mango | VS | All other Multi Vitamins |
General

Category
Liquid Multi-vitamins


Other Ingredients
Purified Water, Fructose, Soy Lecithin, Xanthan, Citric Acid, Natural Flavor, Potassium Sorbate, Criticidal (gradfruit Seed Extract). Contains Soy.


Directions
For Infants 6 Months To 1 Yr: 1 Teaspoon Daily.for Children 1 To 4 Yrs: 1-2 Teaspoons Daily.for Children 4 To 12 Yrs: 2-3 Teaspoons Daily.shake Well Before Use. Keep Refrigerated After Opening. Give Directly Or Mix With Your Child's Favorite Drink.


Free Of
Gluten, Casein, Alcohol, Milk, Eggs, Wheat, Yeast, Corn, Peanuts, Tree Nuts, Fishor Shellfish, Artificial Colors, Flavorings And Sweeteners.


Disclaimer
These Statements Have Not Been Evaluated By The Fda. These Products Are Not Intended To Diagnose, Treat, Cure, Or Prevent Any Disease.


Count

8 fl

(84.39 fl lower than average)

vs


Serving

2 Teaspoons

(0.37 Teaspoons lower than average)

vs


Servings

24

(29.58 lower than average)

vs


Description
Multi Vitamin & Minerals Great Taste Natural Orange/mango Flavor Dietary Supplement For Children Childlife's Multi Vitamins And Mineral Formula Provides All Of The Essential Vitamins With Minerals And Trace Elements In A Good Tasting, Easy To Use, Liquid Formula For Infants And Children Of All Ages. Childlife Uses Only The Highest Quality Ingredients.


Supplement facts

Sugars

5 g

(0.71 g higher than average)

vs


Calories

20

(2.57 lower than average)

vs


Biotin

65 mcg

(293.54 mcg lower than average)

vs


Vitamin C (As Ascorbic Acid)

135 mg

(205.76 mg lower than average)

vs


Vitamin B12 (As Cyanocobalamin)

6 mcg

(1572.49 mcg lower than average)

vs


Folate (As Folic Acid)

135 mcg

(290.41 mcg lower than average)

vs


Iodine (As Potassium Iodine)

50 mcg

(44 mcg higher than average)

vs


Chromium (As Chromium Polynicotinate)

7 mcg

(106.84 mcg lower than average)

vs


Vitamin A (as beta carotene)

850 IU

(844 IU higher than average)

vs


Choline (as bitartrate)

20 mg

(24.17 mg lower than average)

vs


Inositol

20 mg

(18.14 mg lower than average)

vs


Vitamin A (retinol palmitate)

850 IU

(848 IU higher than average)

vs


Vitamin D3 (as cholecalciferol)

275 IU

(352.14 IU lower than average)

vs


Vitamin E (d-alpha-tocopheryl acetate)

20 IU

(40.46 IU lower than average)

vs


Pantothenic Acid (d-pantothenol) (B5)
7 mg


Calcium (lactate)
55 mg


Magnesium (lactate)
15 mg


Total Carbohydrates

5

(0.9 higher than average)

vs


Zinc (as gluconate)

5 mg

(3.96 mg lower than average)

vs


Manganese (as Gluconate)

2 mg

(1.16 mg lower than average)

vs


Thiamin (as thiamin HCl) (vitamin B1)

2 mg

(22.47 mg lower than average)

vs


Potassium (as citrate)

14 mg

(25.17 mg lower than average)

vs


Riboflavin (as riboflavin-5-phosphate)

2 mg

(3.63 mg lower than average)

vs


Vitamin B6 (as pyridoxine HCI)

2 mg

(25.5 mg lower than average)

vs


Selenium (as selenomethionine)

35 mcg

(42.73 mcg lower than average)

vs


Niacin (as niacinamide) (B3)

10 mg

(53.75 mg lower than average)

vs