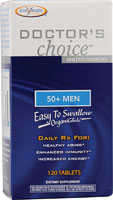 Compare with other Multi Vitamins
Compare
| | | |
| --- | --- | --- |
| Enzymatic Therapy Doctor's Choice 50 plus Men | VS | All other Multi Vitamins |
General

Category
Multi-vitamins For Men


Other Ingredients
Cellulose, Modified Cellulose, Modified Cellulose Gum, Stearic Acid, Magnesium Stearate, Acacia, Silicon Dioxide, Soy Lecithin, Vegetable Glycerin Organic Spirulina, And Soybean Oil. This Product Contains Natural Ingredients; Color Variations Are Normal.


Directions
Take 4 Tablets Daily With Water. May Take 2 Tablets Twice Daily. Best If Taken With Food.


Warnings
If Taking Prescription Drug, Have Gallstones Or Bile Duct Obstruction, Consult Your Healthcare Practitioner Prior To Use. Not Intended For Use By Pregnant Or Nursing Women.


Free Of
Artificial Coloring, Artificial Flavoring, Corn, Dairy Products, Gluten, Preservatives, Sugar, Wheat And Yeast.


Disclaimer
These Statements Have Not Been Evaluated By The Fda. These Products Are Not Intended To Diagnose, Treat, Cure, Or Prevent Any Disease.


Count

120 Tablets

(27.61 Tablets higher than average)

vs


Serving

4 Tablets

(1.63 Tablets higher than average)

vs


Servings

30

(23.58 lower than average)

vs


Description
Multivitamin With Nutrients Especially For The Needs Of Men Age 50 And Older Recommended For Over 10 Years By Naturopathic And Medical Experts, Doctor's Choice 50+ Men Contains 44 Vitamins, Minerals And Herbs To Deliver Daily Energy And Balanced Nutrition For Mature Men. Based On Milligram To Milligram Comparisons With The Leading Competitor, Doctor's Choice 50+ Men Provides More Support For Healthy Aging, Digestion, Blood Sugar, Energy, Bones, And The Immune System.


Supplement facts

Sodium (Na)

10 mg

(21.92 mg lower than average)

vs


Lycopene

2 mg

(1.04 mg lower than average)

vs


Calories

10

(12.57 lower than average)

vs


Biotin

600 mcg

(241.46 mcg higher than average)

vs


Vitamin C (As Ascorbic Acid)

300 mg

(40.76 mg lower than average)

vs


Vitamin B12 (As Cyanocobalamin)

800 mcg

(778.49 mcg lower than average)

vs


Folate (As Folic Acid)

800 mcg

(374.59 mcg higher than average)

vs


Iodine (As Potassium Iodide)

300 mcg

(169.29 mcg higher than average)

vs


Vitamin D (As Cholecalciferol)

800 IU

(409.06 IU higher than average)

vs


Pantothenic Acid (As D-Calcium Pantothenate)

100 mg

(47.48 mg higher than average)

vs


Manganese (As Citrate)

2 mg

(1.41 mg lower than average)

vs


Riboflavin (Vitamin B2)

60 mg

(36.03 mg higher than average)

vs


Molybdenum (As Sodium Molybdate)

75 mcg

(9.98 mcg higher than average)

vs


Choline (as bitartrate)

275 mg

(230.83 mg higher than average)

vs


Inositol

30 mg

(8.14 mg lower than average)

vs


Selenium (as L-selenomethionine)

200 mcg

(111.33 mcg higher than average)

vs


Lutein

2 mg

(6.15 mg lower than average)

vs


Zeaxanthin

75 mcg

(85.97 mcg lower than average)

vs


Total Carbohydrates

2 g

(2.1 g lower than average)

vs


Zinc (as gluconate)

18 mg

(9.04 mg higher than average)

vs


Copper (as Gluconate)

2 mg

(0.7 mg higher than average)

vs


Betaine (as betaine HCI)

25 mg

(21.24 mg lower than average)

vs


Boron (as sodium borate)

3 mg

(1.2 mg lower than average)

vs


Vanadium (as vanadyl sulfate)

150 mcg

(998.02 mcg lower than average)

vs


Vitamin A (75% as beta carotene and as retinyl acetate)

5000 IU

(4995 IU higher than average)

vs


Thiamin (as thiamin HCl) (vitamin B1)

60 mg

(35.53 mg higher than average)

vs


Niacin (as niacinamide and niacin)

120 mg

(10.43 mg higher than average)

vs


Calcium (as calcium carbonate, tricalcium phosphate, and calcium citrate)

400 mg

(100 mg lower than average)

vs


Cinnamon (Cinnamomum cassia) Bark Extract
vs


Antioxidant Blend sweet cherry fruit, green tea extract, grape seed extract, pomegranate fruit extract, and giant knotweed root and rhizome extract containing 50% resveratrol
vs


Digestive Blend:ginger rhizome extract, black radish root, and dandelion root extract
86 mg


Saw Palmetto (Serenoa repens) berry
80 mg


Vegetable Blend broccoli flower, cabbage leaf, tomato fruit, carrot root, collard greens, mustard greens, kale leaf, and spinach leaf

40 mg

(5 mg lower than average)

vs


Panax Ginseng Root Extract
15 mg


Bilberry (Vaccinium myrtillus) Fruit
10 mg


Chromium (picolinate)

200 mcg

(81.59 mcg higher than average)

vs


Vitamin B6 (as pyridoxine HCI)

25 mg

(2.5 mg lower than average)

vs


Vitamin E (Natural Mixed Tocopherols)

67 IU

(14.6 IU higher than average)

vs


Magnesium (as Oxide, Aspartate)

200 mg

(33.33 mg higher than average)

vs


Potassium (Aspartate)

100 mg

(14.36 mg higher than average)

vs