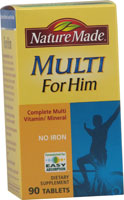 Compare with other Multi Vitamins
Compare
| | | |
| --- | --- | --- |
| Nature Made Multi For Him No Iron | VS | All other Multi Vitamins |
General

Category
Multi-vitamins For Men


Other Ingredients
Calcium Carbonate, Cellulose Gel, Magnesium Oxide, Ascorbic Acid, Niacinamide Ascorbate, Dl-alpha Tocopheryl Acetate Corn Starch, Zinc Oxide, Acacia, Hydroxypropyl Methylcellulose, Croscarmellose Sodium, Manganese Sulfate, D-calcium Pantothenate, Magnesium Stearate, Gelatin (fish From One Or More Of The Following


Directions
For Best Results Take One Tablet Daily With A Meal.


Free Of
Artificial Colors, Flavors, Preservatives, Yeast, And Gluten.


Disclaimer
These Statements Have Not Been Evaluated By The Fda. These Products Are Not Intended To Diagnose, Treat, Cure, Or Prevent Any Disease.


Count

90 Tablets

(2.39 Tablets lower than average)

vs


Serving

1 Tablet

(1.37 Tablet lower than average)

vs


Servings

90

(36.42 higher than average)

vs


Description
Complete Multi Vitamin/mineral Nature Made Multi For Him Is A Complete Multivitamin With 22 Key Vitamins And Mineral At Optimized Nutrient Levels. Men Are Different By Nature. Health Concerns Include Heart, Immune, Bone And Muscle Health. Nature Made Has Created Multi For Him, With Specific Nutrients That Address The Important Health Needs Of Men. Specially Formulated By Experienced Nutritionists And Scientists, Nature Made Multi For Him Helps Men Attain Nutrient Levels They Need For Optimal Health. This Formula Is Rich In These Nutrients:vitamins B6, B12, C & E- For Heart Healthvitamin C & Zinc- For Immune Healthvitamin D- For Bone And Muscle Health And For Healthy Aging.antioxidants (c, E, And Selenium) To Protect The Body From Damage Caused By Free Radicals. For Himthis Nature Made Multi Starts With 100% Daily Value Of Most Key Nutrients. Then, Based On What We Ve Learned From Nutritional Science, The Formula Is Completed With Optimized Levels Of Nature S Essential Nutrients. Science Confirms That These Optimized Nutrient Levels Can Help Men Enjoy Better Health In Several Areas. This Nature Made Multi Helps: Support Healthy Muscle Tissue To Help With Greater Mobility Support Heart And Other Organs To Improve Function Strengthen The Body S Ability To Protect Against The Effects Of Aging. Support Mental Sharpness Maintain Health At A Cellular Level.


Supplement facts

Calcium (Ca)

162 mg

(1.94 mg higher than average)

vs


Magnesium (Mg)

100 mg

(27.91 mg higher than average)

vs


Zinc (Zn)

15 mg

(3.64 mg higher than average)

vs


Copper (Cu)

2 mg

(0.76 mg higher than average)

vs


Manganese (Mn)

4 mg

(0.45 mg higher than average)

vs


Selenium (Se)

70 mcg

(0.91 mcg higher than average)

vs


Vitamin C (total ascorbic acid)

180 mg

(26.9 mg higher than average)

vs


Vitamin D

1000 IU

(482.59 IU higher than average)

vs


Vitamin E (alpha-tocopherol)

50 IU

(3.6 IU lower than average)

vs


Vitamin K (phylloquinone)

80 mcg

(29.08 mcg higher than average)

vs


Thiamin

2 mg

(11.67 mg lower than average)

vs


Niacin

20 mg

(0.8 mg lower than average)

vs


Pantothenic acid

10 mg

(12.91 mg lower than average)

vs


Biotin

30 mcg

(328.54 mcg lower than average)

vs


Chromium

120 mcg

(23.08 mcg higher than average)

vs


Vitamin B6

4 mg

(6.2 mg lower than average)

vs


Vitamin B12

18 mcg

(56.15 mcg lower than average)

vs


Folate (As Folic Acid)

400 mcg

(25.41 mcg lower than average)

vs


Iodine

150 mcg

(38.2 mcg higher than average)

vs


Molybdenum

75 mcg

(29.28 mcg higher than average)

vs


Riboflavin (Vitamin B2)

1.7 mg

(22.27 mg lower than average)

vs


Vitamin A 60% as Beta Carotene
2,500 IU