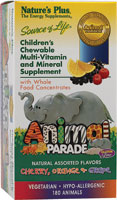 Compare with other Multi Vitamins
Compare
| | | |
| --- | --- | --- |
| Nature's Plus Animal Parade Multi-Vitamin Assorted Flavors | VS | All other Multi Vitamins |
General

Category
Multi-vitamins For Children


Other Ingredients
Fructose, Citric Acid, Guar Gum, Natural Cherry, Orange And Grape Flavors, Magnesium Stearate, Spirulina (naturally Rich In Essential Nutrients), Rose Hips (rosa Canina Fruit), Whole Brown Rice, Broccoli, Spinach, Mango Fruit, Carrot, West Indian Cherry (malpighia Glabra Fruit), Papaya Fruit. Mineral Aminoates Are Whole Brown Rice Chelates.


Directions
As A Dietary Supplement For Children, Take Two Chewable Tablets Once Daily.


Warnings
Do Not Take With Sulfonamide Since Paba Interferes With The Activity Of The Drug. Accidental Overdose Of Iron-containing Products Is A Leading Cause Of Fatal Poisoning In Children Under 6. Keep This Product Out Of Reach Of Children. In Case Of Accidental Overdose, Call A Physician Or Poison Control Center Immediately.


Free Of
Artificial Colors, Preservatives, Yeast, Wheat, Corn, Soy And Milk.


Disclaimer
These Statements Have Not Been Evaluated By The Fda. These Products Are Not Intended To Diagnose, Treat, Cure, Or Prevent Any Disease.


Count
180 Chewable Tablets


Serving
2 Chewable Animal-shaped Tablets


Servings

90

(36.42 higher than average)

vs


Description
With Whole Food Concentrates Natural Assorted Flavors - Cherry, Orange & Grape Vegetarian Hypo-allergenic Source Of Life Animal Parade Children's Formula Supplies The Protection And Nutritional Assurance All Parents Seek For Their Children, Along With The Great Taste And Animal Shapes That Kids Love. Each Chewable Tablet Supplies 16 Vitamins And 8 Minerals, As Well As Nature's Most Healthful Whole Foods, Including Spirulina, Carrot, Broccoli, Whole Brown Rice And Spinach. Combining The Natural Goodness Of Whole Foods With A Balanced Profile Of Nutrients Is What Makes Animal Parade A Complete Dietary Supplement Formulated For Your Child.


Supplement facts

Sugars

2 g

(2.29 g lower than average)

vs


Calories

10

(12.57 lower than average)

vs


Biotin

50 mcg

(308.54 mcg lower than average)

vs


Vitamin C (As Ascorbic Acid)

60 mg

(280.76 mg lower than average)

vs


Vitamin B12 (As Cyanocobalamin)

6 mcg

(1572.49 mcg lower than average)

vs


Folate (As Folic Acid)

10 mcg

(415.41 mcg lower than average)

vs


Niacin (As Niacinamide)

20 mg

(23.02 mg lower than average)

vs


Vitamin D (As Ergocalciferol)

400 IU

(3.56 IU higher than average)

vs


Pantothenic Acid (As D-Calcium Pantothenate)

10 mg

(42.52 mg lower than average)

vs


Riboflavin (Vitamin B2)

1.7 mg

(22.27 mg lower than average)

vs


Sunflower Oil
vs


Vitamin A (as beta carotene)

5000 IU

(4994 IU higher than average)

vs


Vitamin E (as d-alpha tocopheryl succinate)

30 IU

(110.52 IU lower than average)

vs


Calcium (as aminoate complex)

20 mg

(92.78 mg lower than average)

vs


Iron (as aminoate complex)

5 mg

(0.44 mg lower than average)

vs


Iodine (from kelp)

100 mcg

(110.71 mcg lower than average)

vs


Magnesium (as aminoate complex)

10 mg

(44.21 mg lower than average)

vs


Zinc (as aminoate complex)

3 mg

(0.86 mg lower than average)

vs


Copper (as aminoate complex)

0.05 mg

(0.64 mg lower than average)

vs


Manganese (as aminoate complex)

0.05 mg

(1.91 mg lower than average)

vs


Potassium (as aminoate complex)

1 mg

(18.33 mg lower than average)

vs


Pineapple Fruit
vs


Apple Fruit
vs


Lemon Bioflavonoid Complex (from Citrus limon fruit)

20 mg

(4.39 mg higher than average)

vs


PABA (para-aminobenzoic acid)

0.4 mg

(30.49 mg lower than average)

vs


Choline (as bitartrate)

0.04 mg

(44.13 mg lower than average)

vs


Inositol

0.01 mg

(38.13 mg lower than average)

vs


Total Carbohydrates

2 g

(2.1 g lower than average)

vs


Thiamin (vitamin B1) (as thiamine HCl)

2 mg

(18.45 mg lower than average)

vs


Vitamin B6 (as pyridoxine HCI)

2 mg

(25.5 mg lower than average)

vs