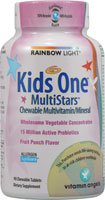 Compare with other Multi Vitamins
Compare
| | | |
| --- | --- | --- |
| Rainbow Light Kids' One MultiStars Fruit Punch | VS | All other Multi Vitamins |
General

Category
Multi-vitamins For Children


Other Ingredients
Natural Mineral Or Vegetable Source Fructose, Dextrose, Stearic Acid, Natural Pinapple Flavor, Silica, Natural Orange Flavor, Natural Cherry Flavor, Citric Acid, Magnesium Stearate.


Directions
Suggested Usage: Children Of All Ages, Chew 1 Star Daily With Or Between Meals. Caution: To Be Chewed. Not Intended To Be Swallowed Whole.


Warnings
Accidental Overdose Of Iron-containing Products Is A Leading Cause Of Fatal Poisoning In Children Under 6. In Case Of Accidental Overdose, Call A Doctor Or Poison Control Center Immediately.


Free Of
Articifical Colors, Flavors, Sweeteners, Preservatives, Lactose, Dairy, Gluten, Yeast, Milk, Eggs, Soy, Nuts, Fish/shellfish And Wheat.


Disclaimer
These Statements Have Not Been Evaluated By The Fda. These Products Are Not Intended To Diagnose, Treat, Cure, Or Prevent Any Disease.


Count
90 Chewable Tablets


Serving

1 Tablet

(1.37 Tablet lower than average)

vs


Servings

90

(36.42 higher than average)

vs


Description
Wholesome Vegetable Concentrates 15 Million Active Probiotics Allergen / Safeguard Great Tasting Fruit Punch Stars Deliver All The Vitamins And Minerals To Promote Healthy Growth. Complete Multivitamin Offers Effective And Bioavailable Forms Of Ingredients For Optimal Absorption. Wholesome Vegetable Concentrates, Support Growing Minds And Bodies, Plus Gentle Nourishing Herbal Tonics. 15 Million Live Probiotic Cultures Support Immunity And Digestion. 100% Natural, Sweetened With Fructose.


Supplement facts

Sugars

2 g

(2.29 g lower than average)

vs


Zinc (Zn)

2.5 mg

(8.86 mg lower than average)

vs


Calories

8

(14.57 lower than average)

vs


Biotin

25 mcg

(333.54 mcg lower than average)

vs


Vitamin C (As Ascorbic Acid)

100 mg

(240.76 mg lower than average)

vs


Vitamin B12 (As Cyanocobalamin)

1 mcg

(1577.49 mcg lower than average)

vs


Folate (As Folic Acid)

200 mcg

(225.41 mcg lower than average)

vs


Niacin (As Niacinamide)

13 mg

(30.02 mg lower than average)

vs


Magnesium (As Magnesium Oxide)

50 mg

(30.07 mg lower than average)

vs


Manganese (As Citrate)

2 mg

(1.41 mg lower than average)

vs


Molybdenum (As Amino Acid Chelate)

30 mcg

(45.65 mcg lower than average)

vs


Selenium (As Amino Acid Chelate)

20 mcg

(39.5 mcg lower than average)

vs


Riboflavin (Vitamin B2)

2 mg

(21.97 mg lower than average)

vs


Copper (As Amino Acid Chelate)

0.25 mg

(1.16 mg lower than average)

vs


Organic Spirulina**

10 mg

(333.12 mg lower than average)

vs


Vitamin E (as d-alpha tocopheryl succinate)

10 IU

(130.52 IU lower than average)

vs


Iodine (from kelp)

25 mcg

(185.71 mcg lower than average)

vs


Total Carbohydrates

2 g

(2.1 g lower than average)

vs


Citrus Bioflavonoid Complex

25 mg

(31.77 mg lower than average)

vs


Vitamin B6 (as Pyridoxine)

2 mg

(14.27 mg lower than average)

vs


Vitamin D (as D3 Cholecalciferol)

400 IU

(222.9 IU lower than average)

vs


Vitamin B1 (as Thiamin Mononitrate)

2 mg

(18.89 mg lower than average)

vs


Vitamin B5 (as Calcium Pantothenate)

4 mg

(28.38 mg lower than average)

vs


Lactobacillus Sporogenes

15 million

(15.94 million lower than average)

vs


Potassium (as citrate)

15 mg

(24.17 mg lower than average)

vs


Vitamin A (as Palmitate, Beta-Carotene)

4000 IU

(3995 IU higher than average)

vs


Vitamin K (as Phylloquinone)

20 mcg

(15.39 mcg lower than average)

vs


Iron (as Carbonyl)

5 mg

(7.57 mg lower than average)

vs


Chromium (as Glycinate, Dinicotinate)
30 mcg


2:1 Herbal Tonics (equivalent to 100 mg of herbal powder)Stinging Nettle [tops], Ginger [rhizome], Peppermint [herb], German Chamomile [flowers]
50 mg


Vegetable Juice Complex (equivalent to 50 mg of vegetable powder)Kale, Spinach, Dandelion Greens, Beet
12.5 mg


Calcium (as calcium carbonate)

100 mg

(42.31 mg lower than average)

vs