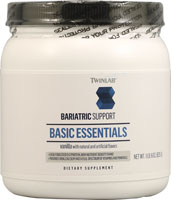 Compare with other Multi Vitamins
Compare
| | | |
| --- | --- | --- |
| Twinlab Bariatric Support Basic Essentials Powder Vanilla | VS | All other Multi Vitamins |
General

Category
Powdered Multi-vitamins


Other Ingredients
Whey Protein Concentrate And Isolate (from Milk), Guar Gum, Xanthan Gum, Maltodextrin, Natural And Artificial Flavors, Medium Chain Triglycerides, Acesulfame Potassium, Sucralose, Soy Lecithin.


Directions
Use In Accordance With Your Physician's Recommendations. Typical Use: Mix 1 Scoop With 4-8 Ounces Of Water For Desired Consistency. Take 3-5 Servings Daily.


Warnings
If You Are Pregnant, Nursing, Or Taking Any Medication Or Have Any Medical Condition, Consult A Health Care Professional Prior To Using This Product.


Disclaimer
These Statements Have Not Been Evaluated By The Fda. These Products Are Not Intended To Diagnose, Treat, Cure, Or Prevent Any Disease.


Count

22 oz

(70.39 oz lower than average)

vs


Serving

1 Scoop

(1.37 Scoop lower than average)

vs


Servings

22

(31.58 lower than average)

vs


Description
Easily Digested 15g Protein High Nutrient Density Shake Provides Iron, Calcium And A Full Spectrum Of Vitamins And Minerals Bariatric Support Is A Comprehensive Supplementation Program Designed By Twinlab To Provide High Quality Nutritional Solutions To Help Address The Specific Needs Of Bariatric Patients. The Goal Of Bariatric Surgery Is To Limit The Body's Supply And Absorption Of Calorie-laden Macronutrients. However, This Also Results In A Decreased Intake Of Micronutrients And Other Essential Dietary Components Including Vitamins, Minerals And Protein That Are Key To Overall Good Health. These Products Utilize Nutrient-dense, Convenient Delivery Forms That Are Easily Digested And Absorbed By The Body To Help Meet The Unique Needs Of Bariatric Patients And Support Optimum Assimilation And Utilization Of Nutrients.


Supplement facts

Dietary Fiber

3 g

(1.24 g higher than average)

vs


Sugars

1 g

(3.29 g lower than average)

vs


Sodium (Na)

71 mg

(39.08 mg higher than average)

vs


Total Fat (lipids)

1 g

(0.25 g lower than average)

vs


Saturated Fat

1 g

(0.25 g lower than average)

vs


Protein

15 g

(10.68 g higher than average)

vs


Calories

90

(67.43 higher than average)

vs


Cholesterol

28 mg

(12.67 mg higher than average)

vs


Calories From Fat

10

(0.38 higher than average)

vs


Biotin

52.5 mcg

(306.04 mcg lower than average)

vs


Vitamin C (As Ascorbic Acid)

21 mg

(319.76 mg lower than average)

vs


Vitamin B12 (As Cyanocobalamin)

350 mcg

(1228.49 mcg lower than average)

vs


Folate (As Folic Acid)

70 mcg

(355.41 mcg lower than average)

vs


Niacin (As Niacinamide)

6.3 mg

(36.72 mg lower than average)

vs


Vitamin D (As Cholecalciferol)

72 IU

(318.94 IU lower than average)

vs


Magnesium (As Magnesium Oxide)

105 mg

(24.93 mg higher than average)

vs


Iron (As Ferrous Fumarate)

4.9 mg

(5.77 mg lower than average)

vs


Pantothenic Acid (As D-Calcium Pantothenate)

2 mg

(50.52 mg lower than average)

vs


Selenium (as Sodium Selenite)

35 mcg

(70.67 mcg lower than average)

vs


Riboflavin (Vitamin B2)

0.56 mg

(23.41 mg lower than average)

vs


Molybdenum (As Sodium Molybdate)

46 mcg

(19.02 mcg lower than average)

vs


Vitamin A (as beta carotene)

47 IU

(41 IU higher than average)

vs


Iodine (from kelp)

52.5 mcg

(158.21 mcg lower than average)

vs


Choline (as bitartrate)

17.5 mg

(26.67 mg lower than average)

vs


Inositol

17.5 mg

(20.64 mg lower than average)

vs


Total Carbohydrates

6 g

(1.9 g higher than average)

vs


Zinc (as gluconate)

5.25 mg

(3.71 mg lower than average)

vs


Copper (as Gluconate)

0.35 mg

(0.95 mg lower than average)

vs


Manganese (as Gluconate)

1.8 mg

(1.36 mg lower than average)

vs


Vitamin E (as d-alpha tocopheryl acid succinate)

4 IU

(137.2 IU lower than average)

vs


Thiamin (As Mononitrate)

0.49 mg

(26.72 mg lower than average)

vs


Chromium (picolinate)

66 mcg

(52.41 mcg lower than average)

vs


Phosphorus (as Dicalcium Phosphate)

280 mg

(164.05 mg higher than average)

vs


Vitamin B6 (as pyridoxine HCI)

0.7 mg

(26.8 mg lower than average)

vs


Calcium (As Di-Calcium Phosphate)
280 mg