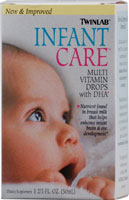 Compare with other Multi Vitamins
Compare
| | | |
| --- | --- | --- |
| Twinlab Infant Care Drops | VS | All other Multi Vitamins |
General

Category
Liquid Multi-vitamins


Other Ingredients
Filtered Water, Glycerin, Polysorbate 80, And Orange Flavor.


Directions
Suggested Use: Shake Well. Fill Dropper To 1 Ml. Give To Baby Either Directly In Mouth, Or Mixed In With Food Or Drink. When Level Of Liquid Becomes Low And Filling Dropper To 1 Ml Gets Difficult, Dispense Twice At The 0.5 Ml Level. After Opening, Store Away From Direct Light. Refrigeration Is Not Required.


Disclaimer
These Statements Have Not Been Evaluated By The Fda. These Products Are Not Intended To Diagnose, Treat, Cure, Or Prevent Any Disease.


Count

1.7 fl

(90.69 fl lower than average)

vs


Serving
1 Dropper (1 Ml)


Servings

50

(3.58 lower than average)

vs


Description
Multivitamin Drops With Dha, A Nutrient Found In Breast Milk That Helps Enhance Infant Brain And Eye Development Gluten Free Clinical Studies Show That Dha, An Important Nutrient Found In Breast Milk, Helps Enhance Brain And Eye Development In Infants. Infant Care Drops Provide This Important Nutrient For Your Baby, As Well As 100% Of The Daily Value Of Ten Recommended Vitamins. The Highest Quality Sources, Including 100% Natural Vitamin E Are Used.


Supplement facts

Vitamin C (As Ascorbic Acid)

35 mg

(305.76 mg lower than average)

vs


Vitamin B12 (As Cyanocobalamin)

2 mcg

(1576.49 mcg lower than average)

vs


Niacin (As Niacinamide)

8 mg

(35.02 mg lower than average)

vs


Vitamin D (As Cholecalciferol)

400 IU

(9.06 IU higher than average)

vs


Riboflavin (Vitamin B2)

0.6 mg

(23.37 mg lower than average)

vs


Vitamin A (As Retinyl Palmitate)

1500 IU

(1496 IU higher than average)

vs


Vitamin E (d-alpha-tocopheryl acetate)

5 IU

(55.46 IU lower than average)

vs


Pantothenic Acid (as dexpanthanol)
3 mg


DHA

20 mg

(156.86 mg lower than average)

vs


Vitamin B6 (as pyridoxine HCI)

0.4 mg

(27.1 mg lower than average)

vs


Thiamin (as hydrochloride)

1 mg

(16.58 mg lower than average)

vs