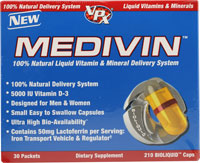 Compare with other Multi Vitamins
Compare
| | | |
| --- | --- | --- |
| VPX Medivin | VS | All other Multi Vitamins |
General

Other Ingredients
Sunflower Oil, Sodium Bicarbonate, Gelatin, Safflower Oil, Cocoa Butter, Soy Lecithin, Beeswax, Mixed Tocopherols, Purified Water, And Natural Red Color.contains Soy (as Soy Lecithin).


Directions
Take 1 Packet Daily With Meal.


Warnings
Do Not Consume More Than The Recommended Daily Allowance (rda) Of Vitamin K And Try To Consume A Consistent Amount Daily. Always Inform Your Doctor Of Any Nonprescription Or Prescription Medications, Herbal Supplements And Vitamins You May Be Taking. In Case Of Accidental Overdose, Call A Doctor Or Poison Control Center Immediately. Do Not Take With Sulfonamide Since Paba Interferes With The Activity Of This Drug. Women Who Are Pregnant Should Not Exceed Recommended Dosage.


Free Of
Gluten.


Disclaimer
These Statements Have Not Been Evaluated By The Fda. These Products Are Not Intended To Diagnose, Treat, Cure, Or Prevent Any Disease.


Count

30 Packets

(62.39 Packets lower than average)

vs


Serving

1 Packet

(1.37 Packet lower than average)

vs


Servings

30

(23.58 lower than average)

vs


Description
100% Natural Liquid Vitamin & Mineral Delivery System 34 Vitamins, Minerals & Super-healthy Nutrients Omega 3 Fatty Acids For Good Mood & Health 5000 Iu Vitamin D For Cardiovascular Health & Muscle Function Vitamin E And C For Cellular Health Lutein For Eye Health Medivin Multivitamins And Mineral Dietary Supplement Is Scientifically Formulated To Be The Cream Of The Crop Of Multivitamin Supplements. Not Only Will You Receive All The Essential Vitamins And Minerals, But You'll Get The Benefits Of Omega 3 Fatty Acids, Lutein, And Antioxidants. Also, Medivin Contains The Synergistic Combination Of Vitamins E, C, As Well As Calcium. This Trio Of Nutrients Has Several Outstanding Characteristics Specifically Designed To Help You Recover From Your Workout And Reduce Body Fat.


Supplement facts

Potassium (K)

99 mg

(31.65 mg higher than average)

vs


Sodium (Na)

230 mg

(198.08 mg higher than average)

vs


Total Fat (lipids)

3 g

(1.75 g higher than average)

vs


Protein

1 g

(3.32 g lower than average)

vs


Calories

30

(7.43 higher than average)

vs


Calories From Fat

25

(15.38 higher than average)

vs


Biotin

100 mcg

(258.54 mcg lower than average)

vs


Vitamin C (As Ascorbic Acid)

500 mg

(159.24 mg higher than average)

vs


Folate (As Folic Acid)

800 mcg

(374.59 mcg higher than average)

vs


Niacin (As Niacinamide)

50 mg

(6.98 mg higher than average)

vs


Iodine (As Potassium Iodide)

150 mcg

(19.29 mcg higher than average)

vs


Magnesium (As Magnesium Oxide)

100 mg

(19.93 mg higher than average)

vs


Pantothenic Acid (As D-Calcium Pantothenate)

10 mg

(42.52 mg lower than average)

vs


Selenium (as Sodium Selenite)

100 mcg

(5.67 mcg lower than average)

vs


Vitamin B12 (As Methylcobalamin)

100 mcg

(519.99 mcg lower than average)

vs


Riboflavin (Vitamin B2)

25 mg

(1.03 mg higher than average)

vs


Molybdenum (As Sodium Molybdate)

50 mcg

(15.02 mcg lower than average)

vs


Vitamin A (as beta carotene)

15000 IU

(14994 IU higher than average)

vs


PABA (para-aminobenzoic acid)

50 mg

(19.11 mg higher than average)

vs


Inositol

50 mg

(11.86 mg higher than average)

vs


Rutin

30 mg

(8.29 mg higher than average)

vs


Lutein

1 mg

(7.15 mg lower than average)

vs


Vitamin D3 (as cholecalciferol)

5000 IU

(4372.86 IU higher than average)

vs


Vitamin E (d-alpha-tocopheryl acetate)

400 IU

(339.54 IU higher than average)

vs


Total Carbohydrates

1 g

(3.1 g lower than average)

vs


Calcium (as calcium carbonate)

500 mg

(357.69 mg higher than average)

vs


Manganese (as Sulfate)

5 mg

(1.69 mg higher than average)

vs


EPA (Eicosapentaenoic Acid)

230 mg

(5 mg higher than average)

vs


DHA

153 mg

(23.86 mg lower than average)

vs


Vitamin B6 (as pyridoxine HCI)

25 mg

(2.5 mg lower than average)

vs


Zinc (as sulfate)
15 mg


Chromium (as Chloride)

200 mcg

(76.74 mcg higher than average)

vs


Thiamine (as Thiamine HCl)

25 mg

(6.9 mg lower than average)

vs


Fish Oil
697 mg


Vitamin K1 (as 2-methylnaphthalene)
80 mcg


Strontium (as strontium carbonate)
50 mg


Lactoferrin
50 mg


Beta 1,3/1.6 Gluco Polysaccharide
2.5 mg


Betaine (as betaine anhydrous)
25 mg


L-Glutathione Reduced
5 mg