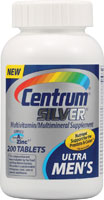 Compare with other Multi Vitamins
Compare
| | | |
| --- | --- | --- |
| Centrum Silver Ultra Men's Multi-Vitamin | VS | All other Multi Vitamins |
General

Category
Multi-vitamins For Men


Other Ingredients
Calcium Carbonate, Potassium Chloride, Ascorabic Acid (vit. C), Dibasic Calcium Phosphate, Magnesium Oxide, Di-alpha Tocopheryl Acetate (vit. E), Pregelatinized Corn Starch, Modified Food Starch, Crospovidone. Contains Acacia, Ascorbyl Plamitate, Beta-carotene, Bht, Biotin, Boric Acid, Calcium Pantothenate, Calcium Stearate, Cholecalciferol (vit. D3), Chromium Picolinate, Citric Acid, Corn Starch, Cupric Sulfate, Cyanocobalamin (vit. B12), Fd&c Blue #2 Aluminum Lake, Fd&c Red #40 Aluminum Lake, Fd&c Yellow #6 Aluminum Lake, Folic Acid, Gelatin, Hydrogenated Palm Oil, Hypromellose, Lecithin, Lutein, Lycopene, Magnesium Stearate, Manganese Sulfate, Medium-chain Triglycerides, Microcrystalline Cellulose, Niacinamide, Nickelous Sulfate, Phytoadione (vit. K), Polyethylene Glycol, Polyvinyl Alcohol, Potassium Iodide, Pyridoxine Hydrochloride (vit. B6), Riboflavin (vit. B2), Silicon Dioxide, Sodium Ascorbate, Sodium Benzoate, Sodium Borate, Sodium Citrate, Sodium Metavanadate, Sodium Molybdate, Sodium Selenate, Sorbic Acid, Sucrose, Talc, Thiamine Mononitrate (vit. B1), Titanium Dioxide, Tocopherols, Vitamin A Acetate (vit. A), Zinc Oxide. May Also Contain Maltodextrin, Sodium Aluminosilicate, Sunflower Oil, Tribasic Calcium Phosphate. Contains


Directions
Adults - Take One Tablet Daily With Food. Not Formulated For Use In Children. Do Not Exceed Suggested Usage.


Warnings
As With Any Supplement, If You Are Taking Medication, Consult Your Doctor Before Use. Important Information: Long-term Intake Of High Levels Of Vitamin A (excluding That Sourced From Beta-carotene) May Increase The Risk Of Osteoporosis In Adults. Do Not Take This Product If Taking Other Vitamin A Supplements.


Disclaimer
These Statements Have Not Been Evaluated By The Fda. These Products Are Not Intended To Diagnose, Treat, Cure, Or Prevent Any Disease.


Count

200 Tablets

(107.61 Tablets higher than average)

vs


Serving

1 Tablet

(1.37 Tablet lower than average)

vs


Servings

200

(146.42 higher than average)

vs


Description
Centrum Silver Ultra Men's Applies The Latest Nutritional Science To Bring You A Complete Multivitamin Specially Formulated For Men 50+, With Nutrient Support For The Prostate & Colon. Men's Health - Specially Formulated With Key Nutrient To Help Meet The Nutritional Needs Of Men 50+. Immunity - Contains Antioxidants That Help Support Your Immune Function. Energy - Contains B Vitamins To Help Support Your Body's Energy. Eye Health - Helps Support Healthy Eyesight With Lutein And Vitamins A, C, And E.


Supplement facts

Calcium (Ca)

250 mg

(89.94 mg higher than average)

vs


Magnesium (Mg)

50 mg

(22.09 mg lower than average)

vs


Phosphorus (P)

20 mg

(51.58 mg lower than average)

vs


Potassium (K)

80 mg

(12.65 mg higher than average)

vs


Zinc (Zn)

15 mg

(3.64 mg higher than average)

vs


Copper (Cu)

0.7 mg

(0.54 mg lower than average)

vs


Manganese (Mn)

4 mg

(0.45 mg higher than average)

vs


Selenium (Se)

100 mcg

(30.91 mcg higher than average)

vs


Lycopene

0.6 mg

(2.44 mg lower than average)

vs


Vitamin C (total ascorbic acid)

120 mg

(33.1 mg lower than average)

vs


Vitamin D

600 IU

(82.59 IU higher than average)

vs


Vitamin E (alpha-tocopherol)

60 IU

(6.4 IU higher than average)

vs


Vitamin K (phylloquinone)

60 mcg

(9.08 mcg higher than average)

vs


Thiamin

2 mg

(11.67 mg lower than average)

vs


Niacin

20 mg

(0.8 mg lower than average)

vs


Pantothenic acid

10 mg

(12.91 mg lower than average)

vs


Biotin

30 mcg

(328.54 mcg lower than average)

vs


Chromium

60 mcg

(36.92 mcg lower than average)

vs


Vitamin B6

6 mg

(4.2 mg lower than average)

vs


Vitamin B12

100 mcg

(25.85 mcg higher than average)

vs


Folate (As Folic Acid)

300 mcg

(125.41 mcg lower than average)

vs


Iodine

150 mcg

(38.2 mcg higher than average)

vs


Molybdenum

50 mcg

(4.28 mcg higher than average)

vs


Chloride

72 mg

(7.03 mg higher than average)

vs


Riboflavin (Vitamin B2)

1.7 mg

(22.27 mg lower than average)

vs


Boron

0.15 mg

(0.74 mg lower than average)

vs


Lutein

0.3 mg

(7.85 mg lower than average)

vs


Vanadium

10 mcg

(766.61 mcg lower than average)

vs


Nickel

5 mcg

(0.95 mcg higher than average)

vs


Silicon

2 mg

(3.25 mg lower than average)

vs


Vitamin A (29% as beta-carotene)

3500 IU

(3497 IU higher than average)

vs