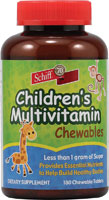 Compare with other Multi Vitamins
Compare
| | | |
| --- | --- | --- |
| Schiff Children's Multivitamin Chewables | VS | All other Multi Vitamins |
General

Category
Multi-vitamins For Children


Other Ingredients
Sorbitol, Fructose, Cellulose, Stearic Acid, Beet Root Powder (color), Citric Acid, Natural Cherry Flavor, Magnesium Stearate And Silicon Dioxide. Contains Soy And Fish (cod, Pollock, Haddock, Hake, Cusk, Redfish, Sole And Flounder)


Directions
For Best Results Children Under 4 Chew One (1) Tablet And Children 4 Or More Years Of Age Chew Two (2) Tablets Daily.


Warnings
Excessive Consumption May Have A Laxative Effect In Children.


Disclaimer
These Statements Have Not Been Evaluated By The Fda. These Products Are Not Intended To Diagnose, Treat, Cure, Or Prevent Any Disease.


Count

180 Chewables

(87.61 Chewables higher than average)

vs


Serving

1 Chewable

(1.37 Chewable lower than average)

vs


Servings

180

(126.42 higher than average)

vs


Description
Less Than One Gram Of Sugar Provides Essential Nutrients To Help Build Healthy Bodies Sometimes Children Are Finicky Eaters, Which Means They May Not Get A Consistent Intake Of Essential Vitamins And Minerals. Schiff Children's Multivitamin Chewables Provide The Essential Nutrients Which Help Build Healthy Bodies.


Supplement facts

Vitamin C (total ascorbic acid)

30 mg

(123.1 mg lower than average)

vs


Calories

5

(17.57 lower than average)

vs


Vitamin B12 (As Cyanocobalamin)

3 mcg

(1575.49 mcg lower than average)

vs


Folate (As Folic Acid)

200 mcg

(225.41 mcg lower than average)

vs


Niacin (As Niacinamide)

10 mg

(33.02 mg lower than average)

vs


Vitamin D (As Cholecalciferol)

200 IU

(190.94 IU lower than average)

vs


Magnesium (As Magnesium Oxide)

3 mg

(77.07 mg lower than average)

vs


Iron (As Ferrous Fumarate)

9 mg

(1.67 mg lower than average)

vs


Riboflavin (Vitamin B2)

0.85 mg

(23.12 mg lower than average)

vs


Vitamin A (As Retinyl Palmitate)

2500 IU

(2496 IU higher than average)

vs


Vitamin E (d-alpha-tocopheryl acetate)

15 IU

(45.46 IU lower than average)

vs


Total Carbohydrates

1 g

(3.1 g lower than average)

vs


Thiamin (As Mononitrate)

0.75 mg

(26.46 mg lower than average)

vs


Calcium (as calcium carbonate)

20.5 mg

(121.81 mg lower than average)

vs


Vitamin B6 (as pyridoxine HCI)

1 mg

(26.5 mg lower than average)

vs


Zinc (as Oxide)

1 mg

(12.38 mg lower than average)

vs