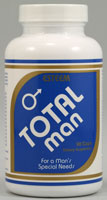 Compare with other Multi Vitamins
Compare
| | | |
| --- | --- | --- |
| Esteem Products Total Man | VS | All other Multi Vitamins |
General

Category
Multi-vitamins For Men


Directions
As A Dietary Supplement, Take 2 To 4 Capsules Daily After Meals.


Warnings
This Product Us For Adult Use Only And Is Not Intended For Children.


Free Of
Corn, Salt, Yeast, Wheat, Milk, Eggs, Sugar, Starch And Preservatives.


Disclaimer
These Statements Have Not Been Evaluated By The Fda. These Products Are Not Intended To Diagnose, Treat, Cure, Or Prevent Any Disease.


Count

90 Capsules

(2.39 Capsules lower than average)

vs


Serving

4 Capsules

(1.63 Capsules higher than average)

vs


Servings

22

(31.58 lower than average)

vs


Description
For A Man's Special Needs Total Man Is A High Energy, Anti-aging Wellness Formula That Promotes Cholesterol And Stress Management, Virility And Endurance Plus General Good Health While Strengthening The Immune System And Boosting Mental Clarity.


Supplement facts

Niacin

20 mg

(0.8 mg lower than average)

vs


Biotin

100 mcg

(258.54 mcg lower than average)

vs


Folate (As Folic Acid)

400 mcg

(25.41 mcg lower than average)

vs


Pantothenic Acid (As D-Calcium Pantothenate)

25 mg

(27.52 mg lower than average)

vs


Molybdenum (As Amino Acid Chelate)

50 mcg

(25.65 mcg lower than average)

vs


Manganese (As Amino Acid Chelate)

9 mg

(4.69 mg higher than average)

vs


Iodine (from kelp)

150 mcg

(60.71 mcg lower than average)

vs


PABA (para-aminobenzoic acid)

50 mg

(19.11 mg higher than average)

vs


Inositol

15 mg

(23.14 mg lower than average)

vs


Selenium (as L-selenomethionine)

100 mcg

(11.33 mcg higher than average)

vs


Vitamin D3 (as cholecalciferol)

400 IU

(227.14 IU lower than average)

vs


Copper (as Gluconate)

2 mg

(0.7 mg higher than average)

vs


Vitamin C (as calcium ascorbate)

125 mg

(256.08 mg lower than average)

vs


Betaine (as betaine HCI)

10 mg

(36.24 mg lower than average)

vs


Octacosanol

300 mcg

(72.13 mcg higher than average)

vs


Potassium (as citrate)

50 mg

(10.83 mg higher than average)

vs


Vitamin B1 (as thiamine HCl)

25 mg

(4.88 mg higher than average)

vs


Vitamin E (as d-alpha tocopheryl acid succinate)

35 IU

(106.2 IU lower than average)

vs


Vitamin B2 (riboflavin)

25 mg

(3.66 mg lower than average)

vs


Bee Pollen

100 mg

(59.71 mg higher than average)

vs


Magnesium (citrate)
100 mg


Vitamin B12 (as Cobalamin)

50 mcg

(45 mcg higher than average)

vs


Vitamin B6 (as pyridoxine HCI)

50 mg

(22.5 mg higher than average)

vs


Saw Palmetto

150 mg

(90 mg higher than average)

vs


Damiana
25 mg


Licorice Root
25 mg


Pro Vitamin A (Beta Carotene)

9000 IU

(8992 IU higher than average)

vs


Bioflavonoids (lemon)
10 mg


Chromium (ChromeMate)
75 mcg


Calcium (Ascorbate & a.a.c.)
250 mg


Zinc (OptiZinc)
25 mg


Gotu Kola
100 mg


Siberian Ginseng (50X1)
500 mg


Ginkgo Biloba (25X1)
100 mg


Garlic
100 mg


Ginger Root

25 mg

(6.9 mg lower than average)

vs


Echinacea (Angustifolia)
25 mg


Cayenne (Capsicum)
50 mg


Sarsaparilla
150 mg


Plantain Leaf
50 mg


Fenugreek
50 mg


Parsley Root
50 mg